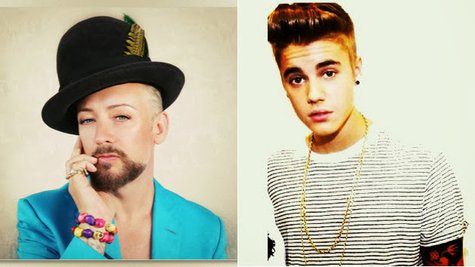 Former Culture Club frontman Boy George knows what it's like to have your personal troubles splashed on the front pages: In his career, he's been arrested, sentenced to community service and struggled with a drug habit. That's why he has nothing but sympathy for troubled teen star Justin Bieber .
Speaking to E! Online , George, who shot to fame with Culture Club when he was in his early twenties, says, "Unfortunately when you're at that age, you won't listen to anyone. I did the same thing. People told me time and time again -- not just at 22 but it happened up until 10 years ago -- to sort of grow up a bit."
He says Justin's problems -- which include being arrested for DUI and assault, and suspected of felony vandalism -- are due to "immaturity," adding, "It's being played out in the spotlight and I'm quite sure there will be an interview in the future where he says, 'I can't believe I did that.' Or not. I hope he makes it through. I think he's a gorgeous young man. He's obviously talented, but he's sort of lost in the show biz antics of it all."
The "Do You Really Want to Hurt Me" singer noted that very few young stars are "ready" for stardom, saying, "There's no school. It's fumbling in the dark. My attitude to life is we're all kind of clinging to a rock, basically. Some of do it better than others."
Boy George recently announced an eight-day U.S. tour in support of his upcoming album, This Is What I Do , out March 25. The trek will kick off April 18 in Philadelphia, and run through April 29, wrapping up in Los Angeles.
Copyright 2014 ABC News Radio