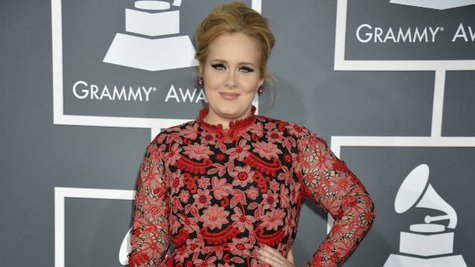 Looks like Adele may be planning a Beyonce -style sneak attack on the music industry. The British paper The Sun claims that Adele plans to release her highly-anticipated third album much sooner than expected.
While there has been a steady stream of news over the past few months about who the Grammy-winning star has been working with on her new material -- including OneRepublic 's Ryan Tedder , Phil Collins , hit-making songwriter Diane Warren , and Madonna 's producer, Wiliam Orbit -- there hasn't been any hint of when we might expect the disc, until now. A source tells The Sun , "Label bosses are getting very excited and word has spread around the industry like wildfire to expect Adele's new material imminently."
According to the paper, Adele's actually been working on the disc since last April. Last October, Ryan Tedder said in an interview that Adele "sounds even better than before," and earlier this month, he posted on Twitter in response to a fan's question that her new material was sounding "AMAZING."
As usual, Adele hasn't said a word about any of this. Her last communication on Twitter came in January , when she offered thanks for her tenth Grammy.
Copyright 2014 ABC News Radio