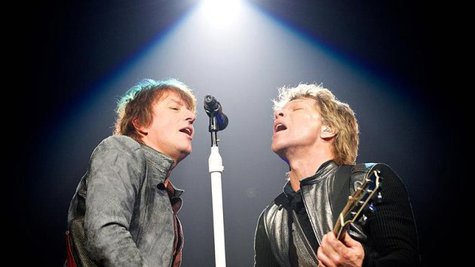 Bon Jovi guitarist Richie Sambora abruptly left the band last April, a decision that he said had to do with his desire to spend more time with his family, and not because of any bad feelings toward anyone in the group. Even so, he's taken a swipe at frontman Jon Bon Jovi for continuing the band's hugely successful world tour without him.
Speaking to the Australian Herald-Sun , Sambora acknowledged that his decision to leave was "unpopular," but intimated that Bon Jovi isn't actually Bon Jovi unless he's present. "At the end of the day, if you're going to buy a can of Coke, you want the real thing," he explained. "Jon just has a different mentality. I know Mick Jagger wouldn't tour without Keith Richards and call it The Rolling Stones ."
Added Sambora, "For the longest time, even now, I'm considered Jon Bon Jovi's side arm, or something. Hey, I built this band, too."
As for the chance that he'll eventually reunite with the band, whose Because We Can tour was last year's #1 highest-grossing trek despite his absence, Sambora tells the paper, "There will have to be a lot of communication, a lot of talking."
Meanwhile, Sambora is in Australia for a series of festival performances, as well as a charity show in Melbourne benefiting the Starlight Foundation. At that concert, he'll be playing with acclaimed Australian guitarist Orianthi , who was scheduled to perform with Michael Jackson at the shows the King of Pop was planning to do in London before his untimely death. She's since gone on to release several solo albums, scoring a hit in 2009 with "According to You."
Copyright 2014 ABC News Radio