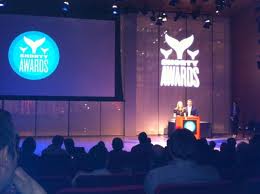 NEW YORK, N.Y. (KWSN-AM) – Friending, posting, tweeting -- it's the way we share information these days for 73 percent of adults. Thanks to social networking, the University of Sioux Falls is getting recognition for a Facebook page that it started four years ago.
Now the University of Sioux Falls Cougars is up for a Shorty Award.
Shorty Awards -- note the brevity in the title. It's like an Oscar, only the recipient doesn't have to be a movie star. Anyone highly influential can win in the land of social media, where short sentences rule.
"Shorty Awards are a relatively new award, they've been around about six years, and they honor social media efforts of all sorts. We've been entered as a nominee in the Best Facebook Page category for our coverage of our student-athletes and teams, and we're very proud of being recognized," said Pam Gohl, USF interim director of athletics.
"I'd like to personally thank USF sports information coordinator Stephanie Pendrys and Paul Watley for their active and thoughtful curation on USF's social media outlets," she added.
Social media is being called the new frontier for communication. Tweeting, tumbling, and posting is paying off by reaching people who wouldn't normally read more than a paragraph of information. But if you can chop up basketball statistics into easy bites and post entertaining student-athlete interviews that generate buzz online, it's considered a huge accomplishment, and worthy of a Shorty Award.
The other finalists in the "Best Facebook Page" category are HBO Facebook, Girls (Produced by HBO), The Student Center (University of Phoenix), Game of Thrones, ABC Family's 25 Days of Christmas, ESPN SportsCenter, ESPN SportsNation, the WWE, Grammarly, Pepsi Timeline Show, Al Jazeera America, Mercedes-Benz, Go-Pro, Playstation 4, Skittles, Visa #GoInSix, How Spartacus: War of the Damned Conquered the Facebook Arena, Smokefree Women, TED and the Futurama Facebook Page.
"Until recently people have never had an easy way to appreciate what our student-athletes accomplish on a daily basis, and so that's what we're trying to do with Facebook and our other social media spaces," said Gohl. "People can check our Facebook page and find out what USF Athletics and our student-athletes are up to on any given day."
The Shorty Awards honor the best of social media, recognizing the people and organizations producing real-time short form content across Twitter, Facebook, Tumblr, YouTube, Instagram, Vine, and the rest of the social Web. More than 2 million tweet-nominations were sent during the 5th Annual Shorty Awards nomination process.
Millions of people visit the Shorty Awards site every year to support their favorite social media content creators by tweeting nominations.
The winners of the 6th Annual Shorty Awards, as chosen by The Academy, will be revealed at the ceremony on April 7th, 2014 at TheTimesCenter at the New York Times building in New York City.
Fans can view USF's Shorty Awards entry at: http://industry.shortyawards.com/category/6th_annual/facebook_page/dU/university-of-sioux-falls-cougars
They can also view USF's Facebook page at: https://www.facebook.com/USFCougars
Previous Shorty Awards ceremonies welcomed The Daily Show's Samantha Bee and Jason Jones, Ricky Gervais, Aasif Mandvi, Tiffani Thiessen, Jerry Stiller, Anne Meara, Kiefer Sutherland, Jim Gaffigan, Amanda Palmer, Conan O'Brien, Cory Booker, Sesame Street's Grover, Ted Leo, Shaquille O'Neal, Stephen Fry, Suze Orman, Rachel Maddow, William Shatner, Carrie Keagan, Chris Hardwick, David Karp, Biz Stone, Coco Rocha, George Takei, Jimmy Kimmel and Felicia Day.
Stephanie PendrysSports Information CoordinatorUniversity of Sioux Fallsstephanie.pendrys@usiouxfalls.edu605.376.8906@stephpendrys