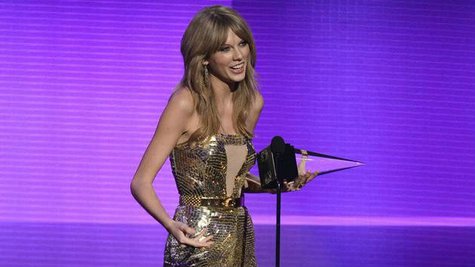 Taylor Swift continued to paint the world RED in 2013, selling out every stop on the North American leg of her RED tour to the tune of $90 million in gross ticket sales. In November, Taylor took her show to New Zealand and Australia, becoming the first female act to headline stadiums Down Under since Madonna did it in 1993. In-between those tour legs, Taylor managed to squeeze in an acting role in the upcoming movie The Giver , opposite Meryl Streep and Jeff Bridges .She also guest-starred on FOX's New Girl in May, playing a wedding guest who runs off with the groom.
The success of the Red album earned Taylor her third Artist of the Year trophy at the American Music Awards in 2013, making her the only person to pull off that many wins in that category. Red also picked up a few Grammy nominations, including yet another Album of the Year nod for Taylor.
While Taylor is one of the world's biggest pop superstars, she doesn't forget her country roots, for which she was rewarded in 2013. She took home several Country Music Association awards, including the association's Pinnacle Award for outstanding career achievement. Helping keep her close to those country roots is the fact that she lives in Nashville -- and in 2013, she gave back to the community there in a big way.
In October, she opened the Taylor Swift Education Center at the Country Music Hall of Fame and Museum. The facility was made possible by Taylor's $4 million donation to the Hall of Fame. In honor of her 24th birthday in December, Taylor donated $100,000 to the Nashville Symphony. It's no surprise then, that in December, she was named Tennesseean of the Year. She was also named Most Charitable Celebrity of the Year by the non-profit DoSomething.org.
After performing "Livin' on a Prayer" with Jon Bon Jovi and Prince William at a fundraiser at Kensington Palace in London in November, the following month Taylor received her second-consecutive Golden Globe nomination in the Best Original Song category, for "Sweeter than Fiction." She co-wrote the song with .fun member Jack Antonoff for the film One Chance, based on the real-life story of Britain's Got Talent winner Paul Potts . The song is also one of 75 eligible to be nominated for an Academy Award come January.

On the personal side, 2013 saw Taylor end a brief relationship with One Direction's Harry Styles and, of course, endure endless speculation that she was dating this person or that, including her duet partner and tour mate, Ed Sheeran , who she says is just a friend. Taylor also purchased a mansion in Rhode Island for a reported $17 million, where she erected a sign that reads, "I knew you were trouble when you walked in/No Trespassing."
Taylor's follow-up to Red is already in progress. It's thought that she'll release the disc in 2014.
Copyright 2014 ABC News Radio