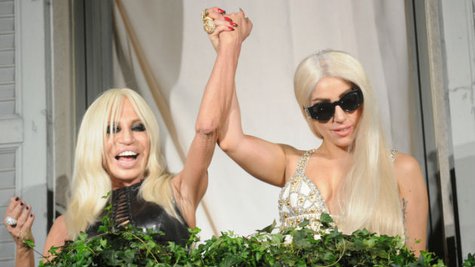 Lady Gaga spent a good part of 2013 appearing nude or semi-nude in photos and videos, so why should 2014 be any different?
On New Year's Day, the singer tweeted a picture of her latest ad for Versace; it shows her lounging topless on a couch, with her breasts covered by her long blonde hair. She's wearing lots of heavy silver necklaces, and what looks like skin-tight patterned jeans and a big belt. She looks a little bit like a younger version of her friend Donatella Versace , the head designer for the Italian fashion label.
Back in November, Gaga was announced as the new face of Versace's spring/summer campaign. She told Canada's Fashion magazine that her friendship with Donatella is very important to her because, she explained, "I don't always have anyone to look up to."
"Seeing where Donatella is and how far she's come and continues to go makes me feel like I have a role model," Gaga said. "I have somebody I can look up to and say 'I can be that' or maybe I can at least try."
Copyright 2014 ABC News Radio