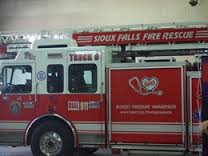 Sioux Falls S.D. (KELO AM) - On January 8, 2014 at approximately 7:45 p.m., Sioux Falls Fire Rescue responded to a structure fire at the above address.
First-arriving crews found smoke and flames coming from the structure. Crews entered the building and had the fire under control in approximately 20 minutes. The home has heavy fire and smoke damage.
Sioux Falls Fire Rescue responded with two support vehicles, four fire trucks, and twenty firefighters. The cause of the fire is under investigation. The home did not have a sprinkler system.
Sioux Falls Fire would like to remind residents to check their smoke alarms.
For more information from Sioux Falls Fire Rescue, visit www.siouxfalls.org/fire or follow us on Twitter @SiouxFallsFire.