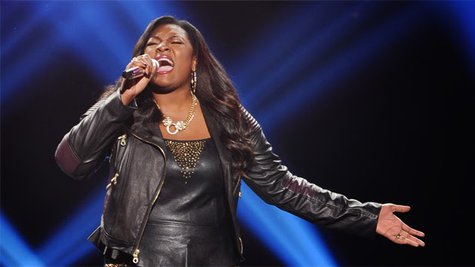 The new season of American Idol kicks off Wednesday night, and Fox executives are hoping to turn things around after the show experienced a 20 percent drop in ratings last year. There will be format changes, a new judging panel -- Keith Urban , Jennifer Lopez and Harry Connick Jr. -- and a new mentor: original judge Randy Jackson . Reigning Idol champ Candice Glover , who appeared on the show for a total of three season before actually winning, has been judged by all four of these stars, and she's excited to see them in action.
"I think that it is amazing," Candice tells ABC News Radio, speaking about the new judge lineup. "Harry Connick Jr. is absolutely incredible." He worked with Candice last season when he appeared as a guest mentor, and she says, "He's honest and he will tell you exactly what you need to do, and you might get offended and you might get upset but it's the truth, and you do need to hear it."
As for J-Lo, she judged Candice during her stint on the show during season 11. "She was amazing. She's the sweetest lady ever," the singer raves. And Keith, of course, helped her win the Idol crown last season. "Keith is also amazing. He's a big fan of real music, so that's what I like about him," she adds.
Candice is equally happy that the show has retained Randy, who with Ryan Seacrest is the only personality who's been on the show from the beginning. "I think it's good to keep him on the show....he knows everything about American Idol ," she tells ABC News Radio. "I think I valued his opinion the most because he...he had seen every contestant, ever. So, I hold his opinion really high."
As far as the contestants are concerned, Candice says she has some friends who were cut from the show last year who are back to compete this year, and she shares the advice she offered them as a three-season veteran. "I just tell them be prepared for anything. It's not as easy as you think it is," she explains. "Yeah, you can sing, but you have to have more than that. You have to have the confidence...They look for, like, the look of a star. And I think the first two years, I thought that my voice alone was gonna carry me. But I had to be confident."
Candice also said being sure of your identity as an artist is key, because the judges will literally try to trip you up. "You have to go in there knowing exactly who you are and don't let anybody's opinion falter that," she tells ABC News Radio. "Honestly, sometimes they will try to throw you off...they mess with your mind."
One example, she says, is when the judges ask you to sing something "current," when you want to sing a standard, because that's your strength. "Then you go up there and sing like, 'Call Me Maybe' and you get cut 'cause you're not being true to who you are," she says.
Overall, Candice says, she's told her friends not to assume that what they see on TV is what being on the show is actually like. "I was on American Idol twice before I actually won. So when I got cut I would go home and be like, 'I can do that...It's not that hard.' But then I got on the show, I was like, 'This is hard!'"

Candice will return to American Idol this February, coinciding with the release of her debut album Music Speaks .
Copyright 2014 ABC News Radio