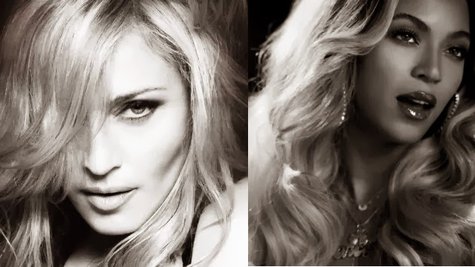 They haven't been officially announced yet, but sources tell the Los Angeles Times that both Madonna and Beyonce will make surprise appearances at this month's Grammy Awards.
The sources tell the paper that the Grammys will mark Beyonce's first TV appearance in support of her surprise self-titled album, which has turned the music industry on its head, while Madonna will show up to sing guest vocals during a performance from one of this year's nominees.
It's not clear if the artist for whom she'd sing backing vocals has already been announced. So far, the lineup for the evening includes everyone from Taylor Swift , Paul McCartney and Lorde , to Robin Thicke , Katy Perry , Pink , Stevie Wonder , Chicago and Keith Urban .

Of the two female stars, Beyonce has won more Grammys than Madonna, despite the fact that Madonna's been in the game decades longer than she has. Madonna's only won seven, while Beyonce has a whopping 17.
Asked by the Los Angeles Times about these performances, Grammy producer Ken Ehrlich wouldn't confirm or deny Madonna's involvement. He also wouldn't confirm Beyonce's appearance but he said, "I love working with [her]. She's incredible. She is so into what it is that she does and making sure that everybody who sees her walks away saying, 'wow.' Should she be on the show this year? I would think that the potential is there for that kind of moment."
We take that as a "yes."
Copyright 2014 ABC News Radio