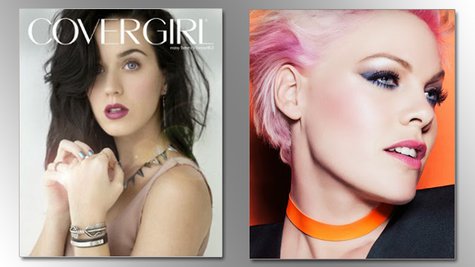 Pink and Katy Perry are pop superstars, but they're also fans...of each other. Both singers are spokeswomen for Cover Girl, so when Pink saw a photo on Twitter of two Cover Girl billboards of herself and Katy right next to each other, she couldn't resist sharing the image with Katy.
"Hey! Look at us!!!" Pink tweeted to Katy. "Nice to be watching over traffic with you @katyperry." Katy replied , "Oh [hey] twin! @Pink excited to see your pretty @COVERGIRL face perform at the @TheGRAMMYs . " Both Pink and Katy are scheduled to sing at the Grammys this Sunday night; Pink will duet on "Just Give Me a Reason" with fun. frontman Nate Ruess , while Katy will perform an as-yet-unannounced track. Both are nominees as well.
When it comes to the Grammys, Katy has yet to win, despite multiple nominations. Pink has won three times over 13 nominations, not counting this year. Pink made reference to her less-than-stellar track record last month on a red carpet when she was asked where she keeps her statuettes. "They're on a shelf. I look at them. [My daughter] Willow plays with them a lot," she told reporters, and then laughed, "You also get this medal for being nominated, so I have lots of those!"
Pink has a shot at two additional Grammys this Sunday: Best Pop Vocal Performance by a Duo or Group and Song of the Year, both for "Just Give Me a Reason." Katy's up for two as well: Song of the Year for "Roar," and Best Pop Solo Performance for her hit, "Roar."
Copyright 2014 ABC News Radio