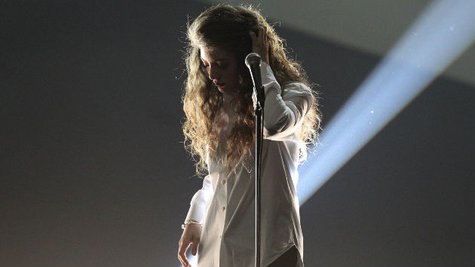 After a rare five weeks spent in Australia and her home country of New Zealand, Lorde is heading to Los Angeles to perform at this Sunday night's Grammy Awards, where she's up for four trophies, including Record of the Year. Should the 17-year-old singer go home empty-handed, though, it won't bother her too much.
Speaking to the Australian website The Music , Lorde, who's also nominated for Song of the Year, Best Pop Solo Performance and Best Pop Vocal Album, says, "To be honest I'm not gonna be too stressed if I don't come home with anything."
"It would be super awesome to win a Grammy, I mean, it would probably be the craziest thing that will ever happen to me if it happens," she adds. "But it definitely won't cheapen or make less anything I've achieved."
Among those achievements: a chart-topping, best-selling hit with "Royals," and worldwide critical acclaim. However, Lorde says the accomplishments of which she's most proud are those having to do with her own personal journey from unknown to household name.
"I think the growing I've had to do in this last year and what I've done creatively…I'm pretty proud of myself and I don't think that'll change whether or not I get this prize," she declares. "But yeah, it would be nice," she adds about winning a Grammy.
Let's just hope Lorde's complexion improves before she hits the stage Sunday night. The singer, whose birth name is Ella Yelich-O'Connor , recently tweeted , "i could probably be involved in a groundbreaking new reality show called Will Ella's Acne Clear Up in Time for Major Events ."
Copyright 2014 ABC News Radio