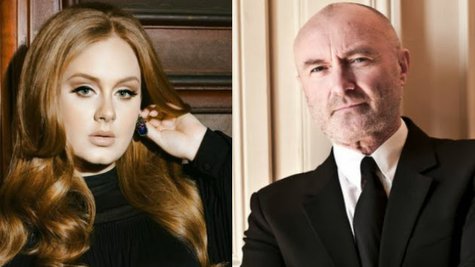 Of all the people Adele might have tapped to work with her on her new album, here's one you -- or anyone -- never expected: Phil Collins . Yet the Rock and Roll Hall of Famer reveals that he's currently working with Adele on new material, even though he didn't really know who she was.
Speaking to the Florida-based website Something Else! , Phil reveals, "I'm just starting to work with Adele. She contacted me to write together.I wasn't actually too aware of [her and her music] -- I live in a cave, I think."
What's really surprising is the fact that Phil's been semi-retired from music for quite some time. His last album of original songs was 2002's Testify . However, he was impressed enough with Adele to start writing again. "She's achieved an incredible amount, and I really love her voice, I love some of that stuff that she's done," he tells the website. "So to me, it's always an eye-opener; educational."
While we wait for Adele to grace us with new music, one of her relatives is about to entertain British TV audiences. The British tabloid The Sun reports that Adele's cousin, Georgia Harrup , has auditioned for the U.K. edition of The Voice , and on this Saturday's episode, she "stuns the coaches" with her rendition of Ray Charles' "Hallelujah I Love Her So."
Georgia, who's 27, is Adele's first cousin once removed: her dad is the brother of Adele's grandmother. She says she only met Adele once, when they were kids, but years later, she became a fan of the singer's first album without even knowing that they were related. She tells The Sun that when her dad learned that the famous singer Adele was their cousin Adele, "I couldn't believe it, as she was always a massive inspiration to me anyway."
Georgia is determined not to use the family connection, though, telling the paper, "I didn't want to push my career in her face so she felt obliged to help me. If she made contact, I think I'd just sit there in a daze."
Copyright 2014 ABC News Radio