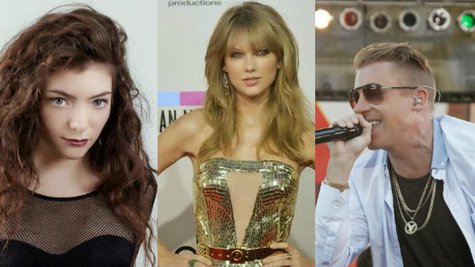 The 56th Annual Grammy Awards take place this Sunday night, and going into the show, it's really anybody's guess who'll take home the top awards, since the major categories seems to be pretty competitive.
The leading nominee this year is Jay Z , who's received nine nominations, but he's not represented in any of the so-called "Big Four" categories: Record, Song and Album of the Year, plus Best New Artist. Rap acts Macklemore & Ryan Lewis and Kendrick Lamar have seven nominations each, as do Justin Timberlake and Pharrell Williams . Another rapper, Drake , has five; Lorde received four.
"It's so prestigious," says 17-year-old Lorde who, despite growing up in New Zealand, is well aware of the importance of the Grammys. "It's so prestigious, everyone in the industry pays attention to this award and it's just the highest honor. I couldn't be more grateful."
Another non-American artist, Ed Sheeran , is nominated this year for Best New Artist, but he has a chance for a second win as well. If his pal Taylor Swift wins Album of the Year for Red, he'd receive a trophy too, because he's one of the featured artists on the album. However, Ed says he'd much rather win Best New Artist.
"I think that would mean more to me just because the Album of the Year is Taylor's album, and it's not technically my project," he explains. "It was nice to be involved in that...[but] I'd say Best New Artist is a good landmark to have for a British dude coming over here for the first year."
As for Macklemore & Ryan Lewis , they're also up for Best New Artist, as well as Song of the Year and Album of the Year, and also have nominations in four other categories. "If we got to bring home one award, it would be something that we never, ever thought was possible when we were making this album," says Macklemore. "So we're just trying to appreciate it and show gratitude to the people that supported us this past year."
OK, so who's going to win? Billboard Editor Joe Levy and Tom O'Neil , editor of the award-centric website GoldDerby.com , have differing opinions on the subject. Here's a look at where they stand in each category.
Record of the Year
Levy thinks it's a toss-up between Bruno Mars ' "Locked Out of Heaven" and Daft Punk 's "Get Lucky." "Both have a classic, old school vibe to them, they harken back to the '70s," he explains. "Bruno Mars is kind of a new wave, almost Police -sounding song. 'Get Lucky' is a classic disco Chic -sounding song." Between the two, He's going with "Get Lucky."
O'Neil, however, thinks Lorde's "Royals" will win. "She's a serious singer/song-writer," he explains. "This category often favors solo female artists like Adele , Amy Winehouse , Norah Jones . And because her music is more current than the others, that gives her an edge." For O'Neil, the biggest hit of the year, "Blurred Lines," has no chance to win here, not just because it was controversial, but also because it has yet to win any award it's been nominated for.
Song of the Year (Award to the Songwriters)
Levy believes that this category is a toss-up between Pink and Nate Ruess ' "Just Give Me a Reason" and "Same Love," the gay rights anthem by Macklemore & Ryan Lewis. "These are really classic songs," he explains. "I just believe the Grammys love it when you have a new song by a new artist that pays old values a lot of attention and lives up to them." O'Neil, however, thinks "Same Love" will win.
Album of the Year
Levy says Taylor Swift has this sewn up, with Red . "Grammys are a subset of the world, the world loves Taylor Swift," he says. "Taylor Swift could end up the youngest person ever to have two Grammy wins in this category." You may recall she won this category a few years back for her album Fearless.
While Macklemore & Ryan Lewis' The Heist and Daft Punk's album Random Access Memories are both nominated here, Levy says, "I think Macklemore & Ryan Lewis have better chances elsewhere. And Daft Punk? "I know that the Internet loves Daft Punk. I'm not sure that Grammy voters are going to show that love."
O'Neil also believes that Daft Punk won't win, noting, "They are the veteran act and normally veterans win here, but this is a dance disc and dance has never won Album of the Year before." Plus, he laughs, "These are French guys who wear helmets! And they seem a little emotionally distant."
However, he doesn't think Taylor will win, either. "I think that she suffers from a little bit of tabloid overflow. I think there's a little bit of bubblegum stuck to her shoe," he tells ABC News Radio. "I think [Grammy voters] don't take her as seriously as they did before as an artist."
His pick is Macklemore & Ryan Lewis' The Heist. "The Grammys just don't like rap in these top categories, but they had three big songs this year and they are pop-friendly rap artists," O'Neil explains. "I think its Macklemore's year: they're nominated for album, song and best new artist; that tends to bode well."
Best New Artist
Billboard's Levy believes rising country star Kacey Musgraves will be the winner here. "[She's] almost is a perfect Grammy artist," he says. "She's young, she's a songwriter, her songs have social meaning, she's out of the country world but she functions in an old school, singer-songwriter vein. It seems more like she should be hanging out with James Taylor than Luke Bryan. And I just think Grammy voters are going to love her."
O'Neil, however, thinks Macklemore & Ryan Lewis will "take [Best New Artist] in a sweep," winning three of the Big Four categories.
Find out if any of these predictions come true Sunday night on CBS, when the Grammys air live starting at 8 p.m. ET/7 CT.
Copyright 2014 ABC News Radio