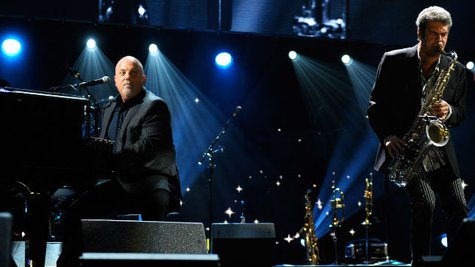 Years ago, a road-weary Billy Joel told his band that he wished he could just stay in one place and have the fans come to him. At the time, his band's reaction was, "Yeah, sure, Billy." But now, the Piano Man's dream has become a reality: he kicks off an unprecedented residency -- or "franchise," as it's being called -- at New York City's famed Madison Square Garden.
Billy will play one show a month at the Garden "for as long as there is interest" -- so far, he has shows scheduled through October, though according to sax player Mark Rivera , his longtime band member , there are plans to do at least a year's worth of shows. However, Rivera is convinced that this residency could last quite a bit longer.
"The way he said it so innocently: 'We'll have a show a month as long as they wanna come.' It was like 'Really?'" Mark laughs to ABC News Radio. "In my opinion, he's like the Tony Bennett of our time. He'll never stop being a great singer the people want to hear." He adds, "This is going to eclipse anything [Billy's] done. We're gonna do 12 shows, I believe. [But] I'd be completely befuddled if we didn't do, like, 20, 24 shows."
Not only that, but Rivera believes that Billy will get plenty of repeat business. Figuring that Billy has 11 albums, with a total of just over a hundred songs, he tells ABC News Radio, "If we do 20 songs a night and we switch out let's say six or eight of them for these shows at the Garden, I'd be surprised if a real Billy Joel fan didn't come to four or five of these performances."
What you won't see, though, is Billy playing his classic albums in their entirety, as many of his fellow rock legends have been doing. "Billy's so self-effacing -- ' I don't even like to listening to my whole record!' he says," laughs Rivera. "So what I think will happen [is] we'll take, like, three-song slices out of records."
The concerts that Billy has done in the run-up to the residency have featured the Rock and Roll Hall of Famer digging deep into his catalog for more obscure songs he hasn't played in years or, in some cases, ever. Rivera says fans can expect this to continue at the Garden, though, he says, some classics will remain.
"I believe there will still be 'New York State of Mind' because we'll be in New York. I believe there will always be 'Scenes from an Italian Restaurant' and he'll play 'Piano Man,' but he's no longer closing with [it]," Rivera explains, adding that recently Billy has been calling for the band to play songs on the fly during the encores. "He's keeping us on our toes, and I find that makes for a much better performance from the view of the ticket buyers...they're loving it."
What's most important, though, Rivera says, is that Billy's current return to the stage finds him completely rejuvenated and happy about performing again.
"Everyone's really excited. He's in a different mindset altogether," Rivera, who's played with Billy since 1982, tells ABC News Radio. He adds that the Piano Man had, for a long time, been "down." "A guy like that who brings so much joy to people, in my opinion, deserves to be joyful and to be happy with himself," he says. "And I'm honestly, I'm very happy for my very dear friend."
Check out BillyJoel.com for all the latest tour dates, both in New York and elsewhere, since they're being added almost weekly. And look for Rivera's first-ever solo album, Common Bond, featuring Billy and Ringo Starr , to hit stores February 18.
Copyright 2014 ABC News Radio