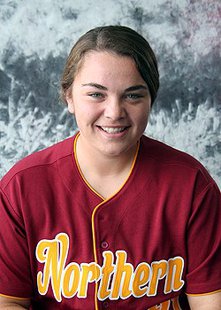 Sioux Falls, SD (KWSN) - University of Sioux Falls head softball coach Kelsey Thompson has announced that Haley Covais and Danielle Walker have signed their national letters of intent with USF and will join the Cougars' program next fall.
Covais, a catcher and infielder, joins USF after spending her freshman year at Northern State in Aberdeen. The Lennox native recorded twenty hits, nineteen RBIs, four home runs and three doubles in her time with the Wolves. Covais prepped at Lennox HS where she competed in softball, basketball and track & field. She was a four-year letter winner in both softball and track & field for the Orioles and earned All-State honors in softball during the 2011 season.
While competing in club softball for SD Fusion in 2009, Covais was a member of the USSSA National Runner-up team, was named to the World Series All-Tournament Team and was the Nationals Game MVP. In 2012, Covais helped lead the MN Irish Gold to a third place finish and was the USSSA Nationals Game MVP. In the classroom, Covais graduated with high honors and was a Regents' Scholar. She also has volunteered for Lennox Elementary, Sanford Children's Hospital and the Banquet.
Walker will join the Cougars program in the fall after having spent time at Western Illinois University and Rock Valley College. While competing at Rock Valley College, Walker helped guide the Golden Eagles to the NJCAA Division III National Championship and a school record 42 wins. She also racked up several awards after hitting a team leading 0.503 with 86 hits and 82 RBIs. Walker was named to the All-Conference and All-Region First Team and was a NJCAA First Team All-American in addition to being named to the NJCAA All-Tournament Team. She was honored as the 2014 NJCAA Softball Marucci Elite Hitter for District G and was a NFCA NJCAA Division III All-American.
While competing at Guilford HS in Rockford, Illinois, Walker was a four year varsity starter and earned All-Conference honors during her sophomore, junior and senior seasons. She was a two-year varsity starter in basketball for the Vikings and was named the female athlete of the year during her senior year of high school.
Courtesy: USF Sports Information