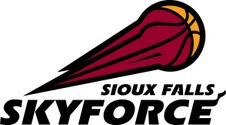 Maimi, FL (KWSN) - The Miami Heat announced today that Justin Hamilton and Larry Drew II will represent the team during the NBA's Summer League camps in Orlando and Las Vegas. Both players spent time in Sioux Falls during the 2013-14 NBA D League season.
They'll be joined by Maimi's top draft pick, former UCONN standout Shabazz Napier.
The HEAT begins summer league play on Saturday, July 5 in Orlando, and will play five games over the seven-day event, with a championship day being played on the final day of the league, July 11. The team will then head to Las Vegas, with their first game scheduled for Saturday, July 12. The team will play a tournament style schedule, with a champion being crowned on Monday, July 21. At a minimum, the team will play at least five games.
Miami and Sioux Falls will be entering the second year of their 2 year develpment contract in the 2014-15 season, which calls for the Heat to control all basketball operations while the Skyforce's local ownership mantains local marketing and community relations efforts.
On the web: Complete Miami HEAT Summer League roster
Courtesy: Miami HEAT