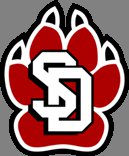 VERMILLION, S.D. (KWSN) - South Dakota is one of three Summit League women's tennis programs honored as ITA All-Academic Teams announced this week by the Intercollegiate Tennis Association. In addition, Coyote senior Maddy Warder, junior Rymma Maslova and freshman Dragana Brankovic were three of 12 Summit League women's players who were named ITA Scholar-Athletes.
Joining USD was Denver and Fort Wayne. The award is open to any ITA program that has a cumulative team grade point average of 3.20 or above. All eligible student-athletes whose names appear on the NCAA eligibility form and have competed in one or more varsity matches must average into the GPA for the current academic year (including fall 2013 and spring 2014).
In order to earn ITA Scholar-Athlete status, a player must be a varsity letter winner, have a GPA of at least 3.50 for the current academic year and have been enrolled at their present school for at least two semesters.
USD, Denver and Fort Wayne combined to account for all 12 Summit League honorees.