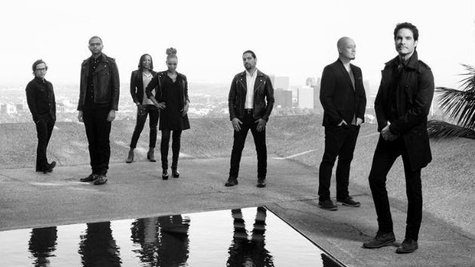 In Train 's latest video, for the single "Angel in Blue Jeans," singer Pat Monahan plays the bad guy to actor Danny Trejo 's hero. It's a role reversal for Trejo, who is known for playing villains in action films, and that is exactly what Monahan thought was so cool about the clip.
"This song to me and the video, they sound and look like a Quentin Tarantino vibe," Pat tells Entertainment Tonight . "I'm a bad guy. I think my face is really good at being a bad guy and it's great 'cause Danny, who usually is a bad guy, ends up being the hero, which is super cool."
Hannah Stone of New Girl also appears in the video ans says that playing a damsel in distress that is also tough was a great role for her.
"It's my first music video, something I've always wanted to do," she said. "The fact that we get to do it with this cool concept where [I] get to be this tough girl who brings knives to the gun fight and still wins -- I don't know, it's just awesome."
Danny said he thinks the song is going to be a smash. He liked it so much he listed to it at least 50 times.
"I drove everybody crazy with it, but thank God everybody likes the song. Now everybody's singing it," he joked. "This song is gonna be a hit, I'm telling you. Everybody's heard it. Low riders are all bumping it pretty loud!"
Train's forthcoming album, Bulletproof Picasso , is out September 16.
Follow @ABCNewsRadio
Copyright 2014 ABC News Radio