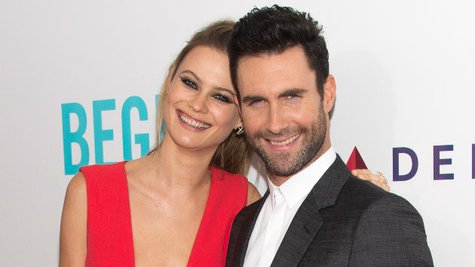 All of the details of Adam Levine's wedding to model Behati Prinsloo haven't been made public, but most reports claim the two will tie the knot Saturday, perhaps in Mexico. Adam's Maroon 5 bandmate, guitarist James Valentine , says he's surprised his friend isn't sweating the idea of giving up his bachelorhood.
"I think he's really excited," James tells ABC News Radio. "I mean he's...I expected him to be more nervous. They're very amped up. They're very happy. It's going to be really fun."
In an interview with the Australian radio station 2DayFM , James spilled the beans on who the best man for the wedding will be: Maroon 5 keyboardist Jesse Carmichael, who recently returned to the band after taking a hiatus. "Those guys go back," he explained. "What's interesting about the band is, I've been with the band for 15 years, but I'm still one of the 'new' members!'" Unlike him, James says, Jesse and Adam have literally known each other since they were 12 years old, so it's appropriate for him to get that honor.
But James will be a part of the ceremony. "It's just another gig for me," he laughed to 2DayFM. "I'm gonna be playing some solo acoustic guitar during the ceremony when people are walking [in]." He won't be playing Maroon 5 hits: instead, James says, he'll be serving up a "nice little medley" of Beatles tunes.
As for whether or not Adam and Behati will "settle down" after they say their "I do's," James laughs, "Oh no, not at all. They will not!" adding, "They're so much fun to be around together. I'm very happy for them."
Let's hope the happy couple gets to relax on their honeymoon -- if they take one -- since Adam's got a busy fall planned: Maroon 5's new album V is due in the beginning of September, and Adam's also prepping for the season premiere of The Voice.
Follow @ABCNewsRadio
Copyright 2014 ABC News Radio