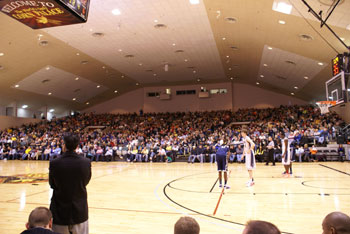 Mitchell, SD (KWSN) - Organizers of the Mike Miller basketball classic have announced that the 2014 event will be held December 27th and 29th in two locations – the Corn Palace in Mitchell and Sanford Pentagon in Sioux Falls.
The event will be entering its 5th year in 2014 and has quickly become one of the premier basketball events in the state, bringing in some of the top high school basketball talent in the country to compete with South Dakota's best.
Tim Smith, sports director at KMIT Radio in Mitchell, has been around the classic since its beginning and says the addition of the Pentagon is another step towards expanding the event. He says tournament director Ernie Kuyper has been trying to get some games from the event televised, and with the sponsorhip base of the tournament in Sioux Falls adding the Pentagon was a natural fit. Smith added that the event provides an opportunity to showcase the Corn Palace and Pentagon as two of the premier smaller basketball venues in the region.
This year's field will include Roosevelt, Lincoln, O'Gorman, and Washington high schools as well as the Mitchell Kernels. Out of state teams include Findlay Prep of Nevada, La Lumiere of Indiana, as well as Patrick Henry and DeLaSalle of Minnesota. 2014 will also bring the Evangelical Christian school of Memphis as one of the new entrants into the classic.
While match-ups have yet to be announced, Smith expects that one of the highlights of the event would be a potential game between Findlay Prep and La Lumiere, as both schools could be positioned in the top 10 of the national rankings.
The event will open on December 27th in Mitchell, with games being held in Sioux Falls on December 29th.