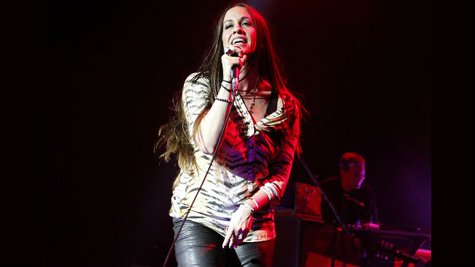 If you ask most people, they'll say that "You Oughta Know," Alanis Morissette's vicious takedown of a former lover, was written about her old boyfriend, Full House star Dave Coulier -- mostly because he once said that it was . Now, however, he's changing his tune.
In a new interview with Buzzfeed , the man known to millions as "Uncle Joey" calls the rumor that Alanis wrote the song about him "an urban legend." He says, "I dated Alanis in 1992. You know, it's just funny to be the supposed subject of that song...the guy in that song is a real a-hole, so I don't want to be that guy."
He admits, though, that it's his own fault that people think he's "that guy."
"I asked Alanis, 'I'm getting calls by the media and they want to know who this guy is,' Coulier explains. "And she said, 'Well, you know, it could be a bunch of people. But you can say whatever you want.' So one time, I was doing a red carpet somewhere and [the press] just wore me down and everybody wanted to know so I said, 'Yeah, all right, I'm the guy. There, I said it.'"
"So then it became a snowball effect of, 'OH! So you are the guy!'" Coulier adds. "It's just become this silly urban legend that I just have to laugh at."
Alanis has never actually confirmed just who the song is about. In 2008, when asked about Coulier, she told reporters in a conference call, "I've never talked about who my songs were about and I won't...because I write these songs for myself. I don't write them for other people." These days, though, she seems to feel that directly confronting the subjects of her songs is the way to go.
Speaking to ABC News Radio in 2012, Alanis said that writing a song like "You Oughta Know" may have helped her get her feelings out about whoever did her wrong, but it wasn't "healing" -- in other words, it didn't make her feel any better.
"I'd sing 'You Oughta Know' over and over and over again, and I still felt unrest around that situation," she explained. "There's this...catharsis by writing it, but it's a little cowardly, because...you're not talking to the person: you're writing about it behind closed doors. So for me, it's about taking that courage that it took to write the song and actually dealing with human beings -- which is terrifying!"
Follow @ABCNewsRadio
Copyright 2014 ABC News Radio