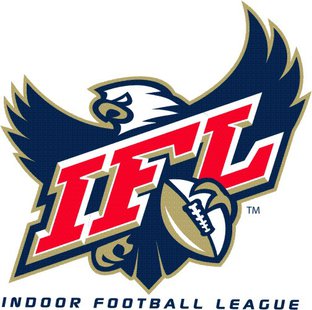 Grand Island, NE (KWSN) - The ten finalists for the inaugural IFL Hall of Fame class were announced today, and all 3 nominees with ties to the Sioux Falls Storm have made the cut. The three-member Inaugural Hall of Fame Class will be revealed next Thursday, June 12th. Storm fans are encouraged to assist in the selection process by voting for finalists via polls on the IFL's official website, www.goifl.com, and social media pages; Facebook and Twitter (@IndoorFtballLge), using the hashtag, #IFLHOF. Below is the complete list, including bio's for the Storm's nominees.
The IFL Hall of Fame will honor players, media members, and front-office personnel with ties to the current Indoor Football League or UIF or Intense Football League, the IFL's predecessors. The inaugural IFL HOF class will be inducted during United Bowl weekend later this month.
Mark Blackburn (LB, Sioux Falls Storm)
Blackburn is a four-time United Bowl Champion (2005-2008) and was named United Bowl Game MVP in 2008. Blackburn was also a four-time All-League selection in the UIF (2005-2008). For his career, Blackburn is the Storm's all-time leader in tackles (664), and forced fumbles (10).
Terrance Bryant (QB, Sioux Falls Storm)
Bryant's illustrious 7-year career began in 2005 with the Sioux Falls Storm. Bryant is a five-time United Bowl Champion (2005-2008, 2013), earning United Bowl Game MVP in 2006 and 2013. Bryant was an All-League Selection in the UIF during the 2006, 2007, and 2008 seasons and was named League MVP in 2006. For his career, Bryant passed for 15,011 yards and 280 TDs.
Rich Roste (Radio Voice of the Sioux Falls Storm/15th Season)
Roste is currently in his 15th season as the play-by-play broadcaster for the Storm. He was named broadcaster of the year in 2005. During his career, Roste has only missed two road games and has announced 8 of the 9 United Bowl Championship games.
Tommy Benizio (Former IFL Commissioner/IFL Team Owner)
Teri Carr (IFL Team Owner, Tri-Cities Fever)
Art Clarkson (COO, Green Bay Blizzard)
B.J. Hill (DB/KR, Green Bay Blizzard)
Ameer Ismail (LB, Tri-Cities Fever, Bloomington Edge, Chicago Slaughter)
Demarcus James (DB/KR, Alaska Wild, Richmond Revolution, Colorado Ice)
James Poynter (OL, Omaha Beef, Nebraska Danger)
Courtesy: IFL