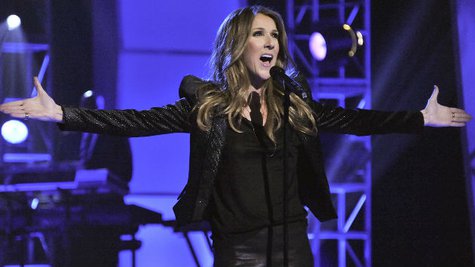 Celine Dion is a happily married mom of three, but in the new issue of People magazine, you can see her getting up close and personal with a totally naked guy...who's 18 feet tall. But don't worry: it's all part of a special photo shoot focusing on Celine and her fellow headliners at Caesars Palace in Las Vegas.
In a behind-the-scenes video , Celine explains that she came up with the idea of posing while cradled on the arm of an 18-foot-tall replica of Michelangelo's David, which stands in Caesars Palace. It required her to be hoisted into the air -- barefoot, while wearing a Lanvin dress -- and placed on the enormous statue's arm.
"I don't like to do easy thing. I like to do things that are hard," she says. "I knew I was very safe; I was not worrying at all." She says if she's the first person who's ever actually perched atop the statue, she's "very honored."
The People photo shoot also finds Shania Twain posing onstage at the Colosseum at Caesars in a fishtail gown with her horse Rizonte , who appears in her show with her. "It's great coming here and not having to move every night" she says of being a Vegas headliner.
Rod Stewart , another headliner, poses on an airstrip next to a plane full of showgirls. While he raves that the folks at Caesars "treat me like Elvis ," he admits, "It's not like a regular show. Sometimes there's no energy, and you gotta work your a** off to get people going."
The fourth big-name Caesars Palace headliner, Elton John , poses wearing a flowing gold cape in Fizz, the new Champagne bar he and his partner David Furnish opened at the hotel. "Vegas is the closest we get to a 9-to-5 [life]," he says of he, Furnish and their two sons, Zachary and Elijah .
You can check out all the photos in the new issue of People , on newsstands now.
Follow @ABCNewsRadio
Copyright 2014 ABC News Radio