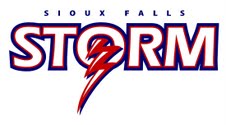 Sioux Falls, SD (KWSN) – The Sioux Falls Storm kept two streaks alive last night as they came from behind to defeat the upset minded Texas Revolution 34 – 29 Saturday night in Sioux Falls.
Chris Dixon threw a 26 yard touchdown pass to Jeremiah Oates with 45 seconds remaining in the game to regain the lead, then held on for their 40th straight home win and keeping their perfect record for the season intact. Texas had taken a 29 – 28 lead with 2:39 left on a field goal by Zeke Arevelo.
The play-off bound Storm will close out the regular season next week as they take on the Cedar Rapids Titans in Cedar Rapids.