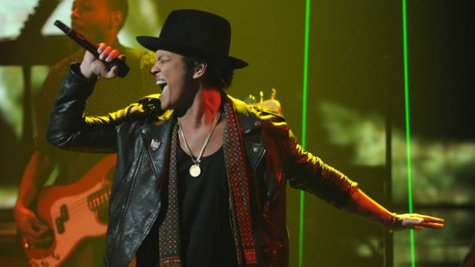 Bruno Mars wasn't even alive in 1974 for the "Rumble in the Jungle," a legendary heavyweight boxing match that took place Africa and pitted Muhammad Ali against then-undefeated world heavyweight champ George Foreman . Even so, the singer's been tapped to help mark the 40th anniversary of that historic fight.
Bruno is the first artist announced for the celebration, called CONGO 14, which will take place simultaneously in Africa and the U.S. and include Congolese, African and international stars performing. It's being organized by the Muhammad Ali Center.
In a statement, the boxing great said, "Forty years later, even though I now have a quieter rumble, I still have great passion for what the fight and its build-up meant to the world. I am proud to have the Muhammad Ali Center be involved in CONGO14 in ways that support growth and harmony for the Congolese people."
Interestingly, a music festival called "Zaire '74" was also held at the same time as the original fight 40 years ago. That event included stars like the late Godfather of Soul, James Brown , "Lean on Me" singer Bill Withers , and the top '70s soul group The Spinners .
Follow @ABCNewsRadio
Copyright 2014 ABC News Radio