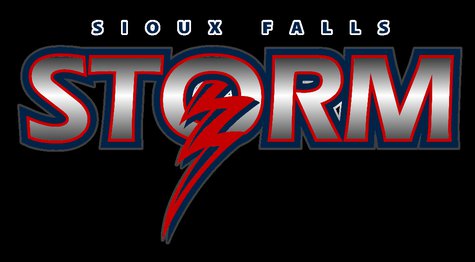 Sioux Falls, SD (KWSN)- The Sioux Falls Storm (13-1) had their revenge Saturday night against the Cedar Rapids Titans (11-3) with a dominant 73-36 win. The win clinches the fourth straight United Conference championship for the Storm. This win also means the Storm will be hosting their Rival, the Nebraska Danger, next Saturday, June 28th in the United Bowl.
After a neck and neck first quarter the Storm blew out the Titans in the second to take a commanding 43-7 into the half. Chris Dixon recorded four of the Storm's touchdowns, one through the air, and another three on the ground. Dixon was 11 for 17 for 149 yards on passing for the night.
Tory Harrison ran rabid on the Titans defense gashing the secondary for 95 yards and two touchdowns. James Terry picked up another touchdown to add to impressive post-season resume. Corey Johnson, a lineman by trade, picked up a surprising two touchdowns on the night via the ground, and finally, Judd Harrold accounted for two touchdowns.
A Storm defense that got a nice break last week was back at it again against the Titans. The relentless Storm defense tallied five sacks on the night, and managed another 11 tackles for losses to keep the Titans offense guessing the entire night. To round out the stat line the Storm also recorded one fumble recovery, and one interception.
Saturday's game was a thunderous warning shot that was heard in Nebraska. The Nebraska Danger will have a difficult containing the explosive Storm offensive and hard-nosed defense.
The United Bowl is scheduled for next Saturday, June 28th with kickoff set for 7:05 pm at the Storm Shelter.
Courtesy: Sioux Falls Storm