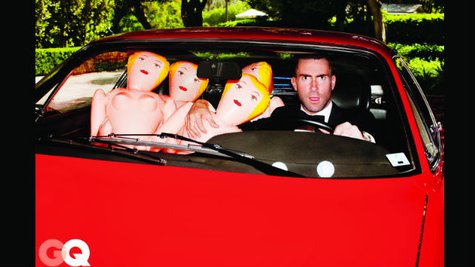 Adam Levine is engaged to be married, but he's still getting criticism for being a serial dater of models. In the new issue of GQ , Adam defends himself against the perception he's, as GQ puts it, a "d-bag."
When the magazine points out that Adam's fiancee, Behati Prinsloo , is the third Victoria's Secret model he's dated in five years, Adam says, "I don't date what the person does. I date the f***ing person. You know what I mean? I could have been a zitty teenager and walked into a Tower Records, and we would have talked about Pearl Jam , and we would have fallen in love when we were 15. And that's when you know. It's like, oh, my God, game over."
Regarding his preference for dating models, Adam says, "So what? Preference should never be looked down upon...I'm not saying I have a preference, but like, I want to date someone... Listen, there are a lot of women in this country, in many countries, who date men for their money. Okay? That's despicable. Right? That's not what we're talking about here. Whatever does it for you, man."
Trying to explain why people so often label him a "d-bag," Adam says there are three things that make you one: lack of self-awareness, arrogance and insecurity, and he has none of those. "I'm not arrogant. I'm cocky," he says. "I'm confident. Some people don't like confident. They resent confidence."
But he will own up to bad behavior in the past, when he was seen as a lothario on the prowl, seemingly out with a different woman every night? "All of a sudden, I had money in my bank account. I hadn't had a break in a long time. And I went a little...nuts, y'know?" Adam tells GQ . "I deserved to go a little bit nuts. And I had the time of my life."
"Would it be really easy to assume that I was a d-bag? Definitely," he adds. "One hundred percent. But that doesn't mean that I am. Or maybe I am, I don't know...I'm not the easiest person to love right off the bat, you know. If I knew everyone in the world, they would love me. Every single last f***ing one of them."
Follow @ABCNewsRadio Copyright 2014 ABC News Radio