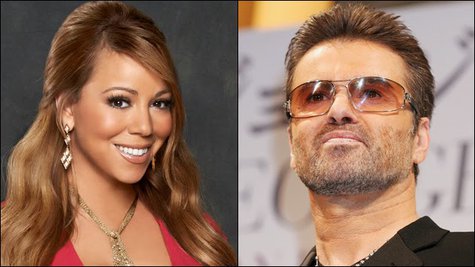 The most unexpected song on Mariah Carey 's new album probably is her cover version of George Michael 's 1988 #1 hit ballad "One More Try." So what does the '80s pop icon think about Mariah's take on his song? He loves it...and he says he's honored she chose to record it.
George tweeted to Mariah, "thank u for recording One more try. Such an honor 2 have one of the best voices in the world singing my song." He added, "PS, love the album!"
Mariah, predictably, went gaga over George's praise, tweeting , "Thank you @GeorgeMichael for writing and singing such an incredible song, I've only done a few covers in my career...I'm so honored u like my rendition of 'One More Try.' You & this song have always meant so much to me." She signed her tweet, "Fan&friend for life."
While Mariah says she's "only done a few covers," those she has done have made quite an impact. Her versions of "Without You" -- previously recorded by Badfinger and Harry Nilsson -- and the Jackson 5 's "I'll Be There" were both massive hits.
Follow @ABCNewsRadio
Copyright 2014 ABC News Radio