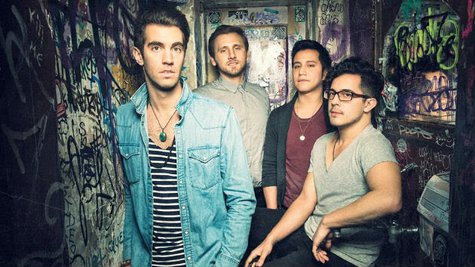 American Authors are currently out on a big summer tour opening for OneRepublic , and of course, a highlight of the set every night is the band's hit "Best Day of My Life." One reason, says singer Zac Barnett , is that there's so much crowd participation that he gets to take a bit of a break.
"It's awesome because I get to relax," Zac tells ABC News Radio about performing the song live. "I'm like, 'Alright, you guys sing it for me. Here we go.' It's a lot of fun."
He adds, "It's cool though, because yeah, people are definitely singing along to 'Best Day of My Life,' which is absolutely amazing, but it's really great to see people singing along to our other songs too that are on the album, and that we've been touring with for a little bit now."
As the song has gotten more and more popular, the band has found themselves playing to larger crowds, and Zac says it makes their live shows even better. "We thrive off the energy that's given from the crowd so it's always fun to play off that," he tells ABC News Radio. "And, y'know, seeing the rooms get bigger and bigger, and more people come out, it's just a dream come true."
One thing that makes "Best Day of My Life" a great singalong for fans are the "whooh-oohs" and the "whoa-oh-ohs" that are such an integral part of the song. Zac says that the song wasn't planned as a hit single, though: it was actually cobbled together from many different songs the band had lying around, and they just decided to throw in a little bit of everything.
"We didn't go into it thinking any which way because it was a bunch of different pieces of songs all put together," he explains. "And when you go into a writing process, ready to do that, you're just having fun because you're just all sitting in a room together, a big group of you, and you're going, 'Well, hey! I have this piece. Let's put that in there. Well, where should we go from there? Oh, I don't know.'"
He adds, "It really was a lot of fun, and adding in the 'whoas' and the 'whoohs' and all that stuff was just us having a good time in the studio."
The band is touring with OneRepublic through the middle of August, with a few individual appearances at festivals scattered throughout. Then, they head to Europe for more shows. This fall, they'll be headlining a leg of the annual Honda Civic Tour.
Follow @ABCNewsRadio
Copyright 2014 ABC News Radio