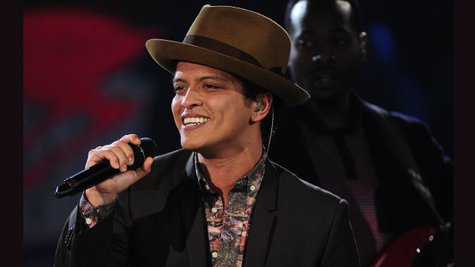 Many fans will tell their favorite singers that their music helped save their lives. But over the weekend, Bruno Mars had a chance to meet a very special fan for whom that claim wasn't an exaggeration.
Last year, 11-year-old Zumyah Thorpe was in a car crash that killed her mother and two sisters. She survived, but suffered a severe head injury, of a type that only has a 30 percent survival rate. She's made a remarkable recovery though, thanks to steady doses of Bruno's music, which the nurses at the hospital played for her every night. Doctors credit the constant repetition of songs like "Just the Way You Are" with helping Zumyah learn how to walk and talk again.
According to the Cleveland Plain-Dealer, at Bruno's concert in Cleveland on Saturday night, the singer came face-to-face with little Zumyah, and sang "Just the Way You Are" with her cradled in his arms.
Afterwards, he posted a photo of himself with Zumyah on Instagram, writing , " Tonight's show was dedicated to this amazing young woman. I love you Zumyah ." He added , "T onight you gave my band and I something we've never felt before. you're an inspiration to the world!" and included the hashtag #WeLoveYouZumyah .
Follow @ABCNewsRadio Copyright 2014 ABC News Radio