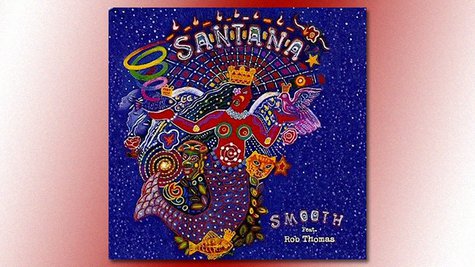 June 29 marked the 15th anniversary of the release of the Grammy-winning, chart-topping, record-setting, gazillion-selling smash "Smooth" by Rob Thomas and Carlos Santana. In retrospect, it seems obvious that the song would be a hit, but Rob recalls that not only was he skeptical about its chances for success, but he didn't even think he should be the one to sing on it.
Recalling how he was specifically hired to pen a song for Santana's album Supernatural, Rob tells Billboard , "The original plan was I was going to be a writer for it. I thought George Michael should sing it. But I guess they liked my voice in the demo. I don't think Carlos even knew who [it was singing on the demo]."
Carlos agrees, telling Billboard, "When they sent me the demo, it felt a little like in an embryonic state. I couldn't tell if it was a boy or a girl singing."
As for its commercial potential, Rob says, "I had gotten the first verse and chorus and I played it for [my wife Marisol , who inspired the song], and I said, 'I'm not sure about this.' She said, 'This is going to be huge.'"
He adds, "When I met Carlos, the first thing he said was, 'Hey you must be married to a Latin woman," because of the lyrics. He said, 'That's the kind of thing a white guy married to a Latin woman would tell her.'"
Rob says when he flew to San Francisco to record the track with Carlos, live in the studio, that's when the song started sounding exciting. Still, he says he didn't know it would be a single until he was walking down the street in New York City one day and heard it coming out of a car radio.
Looking back now, Rob says of "Smooth," "It's kind of amazing if you get to be part of something so big; it's outside of mine or Carlos' control. It has its own world and its own entity...whenever we get together, he'll get on stage. And there's not one birthday or anniversary that I don't get a giant bouquet of white roses from Carlos. White, which means friendship."
Follow @ABCNewsRadio
Copyright 2014 ABC News Radio