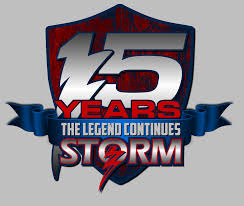 SIOUX FALLS, SD (KWSN-AM) The Sioux Falls Storm football players and cheerleaders will visit Siouxland Libraries locations on March 12 and 13, 2014. They will read books about football, make a craft with children, and sign autographs. Vouchers for a free child ticket to a Storm game of your choice will be given to each child present and are redeemable at the Arena box office. Be sure to bring your camera for pictures.
The Storm will be at the following locations on these dates:
Date Time Location Address
Wednesday, March 12[Worldly Wednesdays]
3–4 p.m. Prairie West Branch 7630 West 26th Street
Thursday, March 13[Crafty Kids]
3–4 p.m. Oak View Branch 3700 East 3rd Street
Thursday, March 13
7–8 p.m. Caille Branch 4100 Carnegie Circle
Thursday, March 13
7–8 p.m. Main Library 200 North Dakota Avenue
Thursday, March 13
7–8 p.m. Ronning Branch 3100 East 49th Street
If an ADA accommodation is needed, please contact the Human Relations Office at 605-367-8745 or humanrelations@siouxfalls.org at least 72 hours before the event.
For more information about library programs and services for children, call the Youth Services Division of Siouxland Libraries at 367-8710, or visit our website atwww.siouxlandlib.org/kids.
For more information about the Sioux Falls Storm, visit their website site atwww.siouxfallsstorm.com.