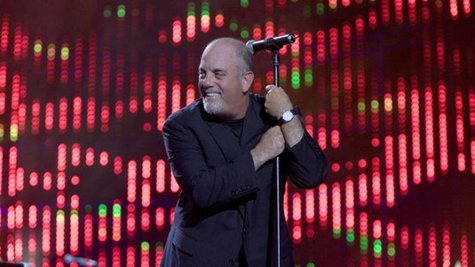 If you've ever been singing along to Billy Joel's #1 hit "We Didn't Start the Fire" and gotten hopelessly lost in its long string of tricky lyrics, you can understand how that might occasionally happy to Billy himself. And it did, earlier this week during a performance in Toronto, Canada.
The moment, which of course has now popped up online , has Billy singing the hit when about thirty seconds in, he loses his place before the part where he's supposed to sing "Rosenberg's H bomb, Sugar Ray, Panmunjom." He stops the band and says, "Wait a minute. That ain't right. All you gotta do is f**k up one word in that song and it's a train wreck. Where were we?" He then suggests skipping to the next song, but decides against it.
"It's the same thing, verse after verse. Just the words change," he tells the audience, explaining why it's so easy to mess up the lyrics. "One of the worst melodies I ever wrote!" Then, he resumes the song with "Vaccine, England's got a new queen/Marciano, Liberace, Santayana goodbye" and completes the tune. "Well, that'll be all over YouTube tomorrow," he tells the crowd. "It's OK. It was an authentic rock and roll f**k-up. We're not on tape! You don't see much of that these days!"
Copyright 2014 ABC News Radio