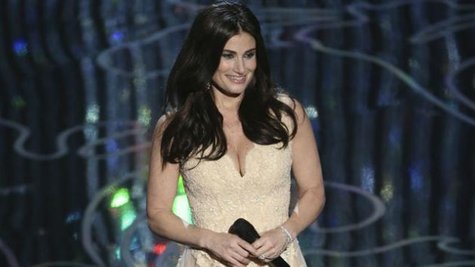 Back in 2004, Idina Menzel -- or Adele Dazeem as only John Travolta calls her -- won a Tony Award for the hit Broadway show Wicked . Now, the fact that she has that trophy has helped her set a Billboard chart record with her Oscar-winning Frozen hit, "Let It Go."
According to Yahoo! Chart Watch , Idina is now the first person who's won a Tony Award for a musical to hit the top 10 on the Billboard Hot 100 since 1957. You'd think it would happen more often, since winning a Tony for a Broadway musical performance generally means you've got a great voice, but no. The last person to do it was Harry Belafonte , with his 1957 classic "Day-O (The Banana Boat Song)." He'd won his Tony in 1954.
What's more, in all of history, there have only been four people who won Tonys for musical performance to score top 10 hits. Harry Belafonte and Idina are two; the other two are Mary Martin and Ezio Pinza, who won Tonys for their lead roles in South Pacific . Their hits, though, came even earlier than Belafonte's, making Idina's accomplishment a rare one indeed.

However, Idina may just be satisfied with the fact that a song of hers has climbed higher than one of John Travolta's ever got, at least as a solo artist. While "Let It Go" is #9 on the chart, the highest John ever got was #10, back in 1976, with the ballad "Let Her In." Again, this is as a solo artist, so we're not counting his Grease hits.
Copyright 2014 ABC News Radio