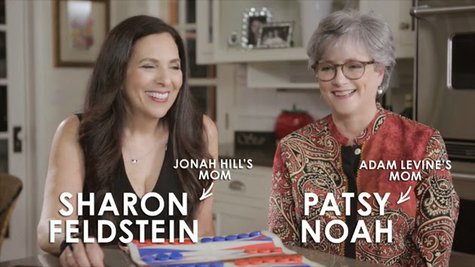 If you're tired of your mom nagging you to sign up for health care online, maybe you'd prefer it if Adam Levine 's mom nagged you. Or Alicia Keys 's mom. Or Jennifer Lopez 's mom. All three women appear in a new public service announcement called #YourMomCares, touting Healthcare.gov, the website where you can sign up for the Affordable Health Care program, and urging young people to register before the March 31 deadline.
In the promo, Adam Levine's mother, Patsy Noah , appears alongside Sharon Feldstein , the mother of Adam's childhood pal, actor Jonah Hill . "Both of our boys were rambunctious, mischievous, naughty," reveals Patsy, laughing and adding "gifted, talented, kind" after Sharon prompts her. The two are quite the double act, with Sharon, whose son looks remarkably like her, cracking jokes, and Patsy playing straight woman. Patsy recalls how Adam "always made me do his dirty work," while Sharon reveals that Jonah "flooded the elementary school."
"Trust me, us moms put up with a lot, but one thing we should never have to put up with is our kid not having health care," says Sharon, while Patsy warns, "Young people feel invincible. And until something actually happens, they will continue to feel invincible, and unfortunately, things do happen."
Alicia's mom, Terria Joseph , recalls that her Grammy-winning daughter was "an old soul, very active, very interested in things. She only had to hear a song once and she could play it, so she never thought she had to practice." She then gets to the point, saying, "There's nothing worse for a mom than feeling that child is not protected, no matter how old they are...do it for your mom."
As for Guadalupe Rodriguez , Jennifer Lopez's mom, she shares how the future global superstar "walked at eight months and she was climbing out of her crib when she was a year old. At one point, I thought, 'Maybe she should be a gymnast.'"
After all the moms weigh in, the first mom, Michelle Obama , appears and says, "We nag you because we love you. So go to Healthcare.gov and enroll today."
Coyright 2014 ABC News Radio