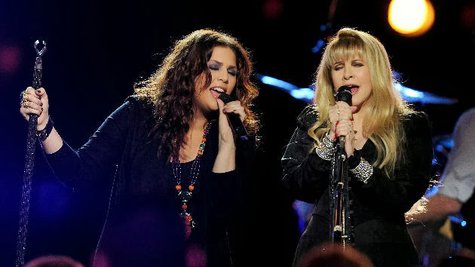 The annual Academy of Country Music Awards telecast is usually pretty open about welcoming artists from genres other than country, so it's no surprise to hear that Stevie Nicks has joined the lineup for this year's show, which will air live from Las Vegas April 6 on CBS.
Stevie will sing with Lady Antebellum during the telecast, which will also include live performances from, among others, Blake Shelton , Keith Urban , The Band Perry , and Florida Georgia Line . Blake is also co-hosting the show with country star Luke Bryan .
Stevie Nicks joining Lady A for the performance makes a lot of sense. After all, the Fleetwood Mac frontwoman appeared on CMT Crossroads with the group last year, and the two acts have stayed in touch and remained friends since then. In fact, Stevie has been spoiling Eisele [EYES-lee], the baby daughter of Lady A's Hillary Scott, by sending her gifts of fabulous baby clothes.
"She's definitely taken her wardrobe up a few notches than what she had originally," Hillary told ABC News Radio last year.
Copyright 2014 ABC News Radio