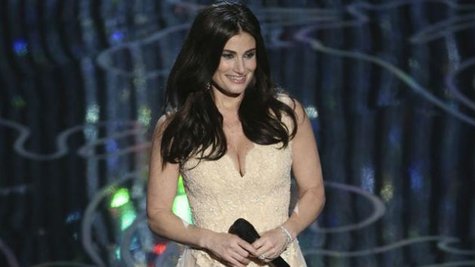 The night of the Academy Awards, when John Travolta mangled her name, Idina Menzel -- or should we say "Adele Dazeem" -- was said to have laughed off the actor's fumble. But now, it's been revealed that the "Let It Go" singer recently received a gift from Travolta as a belated token of his apologies.
Not long after the Oscars, Travolta issued a statement saying that he'd been "beating himself up all day" about his mistake, which became one of the most talked-about moments of the entire telecast, and even inspired a widget that allows you to "Travoltify" your own name. But E! Online reports that just about a week-and-a-half ago, the actor sent a massive arrangement of flowers to Idina backstage at her Broadway musical, If/Then.
A source tells E!, "He sent her a big, gorgeous bouquet of flowers to her dressing room. It was HUGE. It was his apology to her. It was clear he felt very bad about it and by the size of the arrangement it was an obvious 'forgive me please' gesture.'"
Even if Idina did take offense, it's long forgotten. Not only did the episode put her on the front pages, but she recently celebrated her first-ever top 10 pop hit with "Let It Go."
Copyright 2014 ABC News Radio