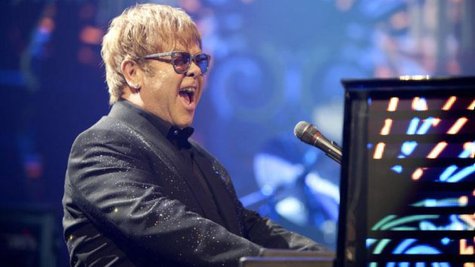 Elton John has said that he doesn't think he'll ever land in the top 10 ever again, but guess what? He just did...only as a songwriter.
Elton and his songwriting partner Bernie Taupin are credited as co-writers on the song "The Man" by Aloe Blacc , the "Wake Me Up" singer who's currently advising Team Adam on The Voice . That's because the chorus on the song features Aloe singing, "And you can tell everybody," using the exact same tune Elton uses when he sings that line in his classic "Your Song." Well, the song has finally made it to the top 10.
Billboard reports that the last time Elton and Bernie had a top 10 hit was when the remake of "Candle in the Wind," their tribute to Princess Diana, spent 14 weeks in the upper reaches of the chart from late 1997 through early 1998.
Elton is very happy about Aloe's use of his song, telling Rolling Stone recently, "Those little things come along and they give you a big kick up the bum and that's great, fantastic. It means your music is still relevant, but in a different form, in a different way. And I'm all for moving on."
Copyright 2014 ABC News Radio