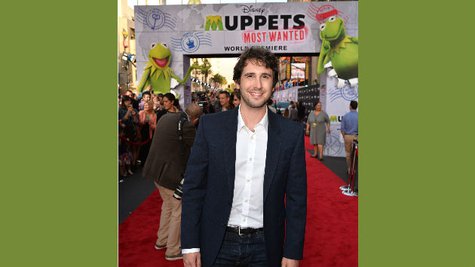 The new Muppets movie, Muppets Most Wanted, features a slew of cameos by top musicians, from Usher to Celine Dion . Josh Groban also makes an appearance in the film, and he says singing with the Muppets literally marks the fulfillment of a childhood dream.
"It's something I thought ever since I was five years old, ever since I grew up watching Muppet Babies and tried to decipher what the nanny was saying," he told ABC News Radio at the movie's premiere recently. "I've wanted to sing with The Muppets, for The Muppets...I would have just been happy doing a private concert for The Muppets! With no cameras, just with all of the puppets sitting there! It would have been absolutely OK with me!"
Luckily, Josh gets to do a bit more than that in the film, but we can't tell you what, exactly, that entails. That's because -- according to the producer, at least -- his appearance is so surprising and unexpected that it's being kept under wraps.
"[Josh's camp] called and said, 'He really, really wants to be part of [the movie]," producer Todd Lieberman tells ABC News Radio. "I will not spoil the surprise because I think it's a really fun place where he shows up, but we said, 'You know what would be great for him? THAT!'"
Lieberman laughs, "So, for all those watching the movie or about to watch the movie...you'll know when you see it."
"This was really a great thrill and a really fun cameo, to be a part of it," Josh adds. "I had a blast."
Josh is also featured on the movie's soundtrack album, singing a tune called "The Big House" with Tina Fey, who plays a Russian prison official. We're not sure whether or not that's a clue to his role in the plot, which finds Kermit the Frog having his identity stolen by a master criminal named Constantine, who looks exactly like him...except for a mole.
The Muppets Most Wanted soundtrack is in stores now; the movie opens Friday.
Copyright 2014 ABC News Radio