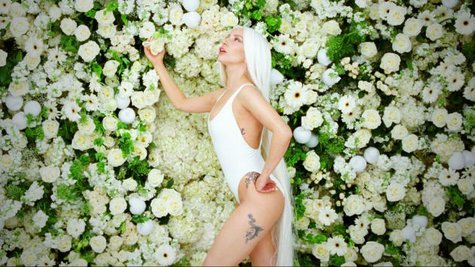 Lady Gaga hadn't released a new video for seven months, but Saturday night, she debuted the longest, and possibly the most elaborate, one of her career: "G.U.Y."
The clip , which clocks in at 11 minutes and 46 seconds, is more like a mini-movie, directed by Gaga herself. It begins with the singer dressed as an angel, lying in a huge crater. She's been shot through the heart by an arrow, but she's ignored by a huge crowd of men in business suits, who fight over money that's swirling all around her. The music we hear isn't "G.U.Y.," however: it's "Artpop," the title track from the singer's current album.
Angel Gaga then manages to struggle her way to her feet and make her way through a field to the gates of a castle. As she's dragged inside, we hear "Venus," another song from ARTPOP . The friendly people inside the castle wrap her in flowers and place her in a pool of water. Cut to cast members from The Real Housewives of Beverly Hills "playing" instruments and lip-synching along to the song. Finally, the song "G.U.Y." begins, and Gaga pops up again, all clad in white and "reborn." She looks up in the sky and winks to a huge looming figure who's supposed to be some sort of god, played by Andy Cohen from Bravo's Watch What Happens Live .
What follows is a whole lot of Gaga dancing provocatively in skimpy outfits in different settings, while surrounded by hunky guys. There's also strange scene where Gaga stands over a guy with a laptop, who is apparently using it to re-animate dead legends, including Michael Jackson , Mahatma Gandhi and Jesus.
Then, Gaga, now dressed all in black and wearing an elaborate headdress, pulls up in front of an office building in a vintage car, holding a weapon. She's accompanied by more Housewives. They infiltrate the building, find the suit-wearing men from the opening moments of the video and kill them, replacing them with suit-wearing hunks loyal to Lady Gaga. Then...more dancing!
The last shot shows the suit-wearing hunks streaming out of the gates of the castle, heading...where? To take over the world? It's unclear, but we find out later that they're supposed to be clones. The camera then pans out over the hills to the sea and clouds, and we're done. Well, not quite.
Four minutes' worth of credits then roll, set to another ARTPOP song, "Manicure." The credits last so long that it appears that every person who had anything, no matter how small, to do with the video, has their name listed, including the staff of historic Hearst Castle in California, where the clip was shot.
So what does it all mean ? One fan offered this explanation : "She gets destroyed by typical men, is revived and creates the perfect man from mj [Michael Jackson], jesus and ghandi and clones him times a million." But those "typical men" -- the ones grabbing the money in the beginning of the clip -- might also represent the people who Gaga accused of "betraying" her earlier this year.
Explaining in January why her video for the song "Do What U Want" was late, Gaga wrote , "Those who have betrayed me gravely mismanaged my time and health and left me on my own to damage control any problems that ensued as a result...Millions of dollars are not enough for some people. They want billions. Then they need trillions. I was not enough for some people. They wanted more." That video never materialized.
Copyright 2014 ABC News Radio