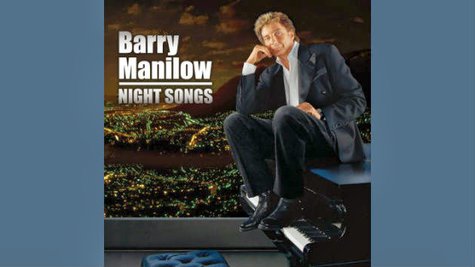 Pop legend Barry Manilow very quietly released a new studio album this week. Night Songs features Barry performing a set of 16 standards, with just his own piano accompaniment and synthesized bass. Manilow hand-picked the songs from a list of his favorite tunes by some of the most renowned 20th century composers.
Among the better-known songs featured on Night Songs are "Ac-Cent-Tchu-Ate the Positive" and "You're Getting to Be a Habit with Me," although most of the tunes likely will be less familiar to a modern pop audience.
"I loved making this album," Manilow says in a statement. "It reminded me of the days I used to play in piano bars. I loved those days. No Top 40 to worry about, no planes to catch, no hotel rooms to check into and out of, and none of those little bars of soap!"
Barry shares some more details about Night Songs in a message posted on his official website . He says the record "is so different from any album I've ever made," adding that the stripped-down recording offers "[j]ust beautifully crafted songs played and sung simply so the listener can really understand them."
He also reveals that he'd never intended to release the album commercially. "It was a labor of love that was meant to stay 'in the drawer,' he explains. "But whenever I'd play it for friends, they'd ask for a copy and then tell me that they couldn't stop playing it."
Manilow credits his manager, Garry Kief , for finally convincing him to release Night Songs . You can purchase the album now at NightSongs.com .
Here's the full track list:
"I Fall In Love Too Easily"
"Alone Together"
"Blame It On My Youth"
"I Get Along Without You Very Well"
"You're Getting to Be a Habit with Me"
"It Amazes Me"
"But Not for Me"
"It's a New World"
"While We're Young"
"You Don't Know What Love Is"
"Ac-Cent-Tchu-Ate the Positive"
"My One and Only Love"
"I've Never Been in Love Before"
"I Walk a Little Faster"
"Here's That Rainy Day"
"Some Other Time"
Copyright 2014 ABC News Radio