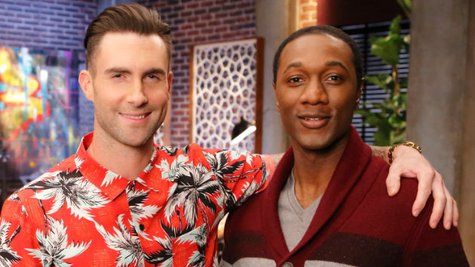 If you don't know the name Aloe Blacc, you certainly know his voice: he's the guy who sings on the hit song "Wake Me Up," which is credited to the Swedish deejay and producer Avicii , And after the past two weeks, you should known his face, too: he just wrapped up a two-week stint as a mentor to Team Adam during Battle Rounds on The Voice.
While Aloe is a seasoned performer who's released a number of albums -- including his new one, Lift Your Spirit -- he says the experience of helping the contestants on The Voice taught him a thing or two about himself.
"There's a lot of things that I realized I'd never had actually paid attention to, that I do in the development of my performance, that I had to be very specific about to these new singers," he tells ABC News Radio. "I learned that taking some time to look in the mirror and watch what you're doing...can make a world of difference in how you present [yourself onstage]."
While two contestants sang "The Man" on The Voice, over on American Idol, another contestant sang "Wake Me Up." What does Aloe think about his songs becoming so well-known that they're being used on TV competitions?
"It's fantastic," he tells ABC News Radio. "You know, for me, a song is never finished. I may release a version of it, but at that point it's like a flower that just continues to blossom and everybody who sings adds a new petal to it."
"Wake Me Up" is a unique song: it mixes organic instruments and a country-sounding melody with electronic dance music sounds. It's since become a global, multi-platinum smash. Aloe says even when he co-wrote the tune, he thought there was something special about it.
"I did feel like it was fresh and new," he tells ABC News Radio. "It didn't seem like anything I'd heard before, but I knew it would work because I know that when you have a great song, you can pretty much remix it in any way. And the way that I created it was just guitar and vocal, and then Avicii was able to use that as his basis to create the dance hit."
"Anytime you're starting with the meat and potatoes of a good song," he adds, "you can pretty much do anything to it."
You can catch Aloe on tour this summer with Bruno Mars .
Copyright 2014 ABC News Radio