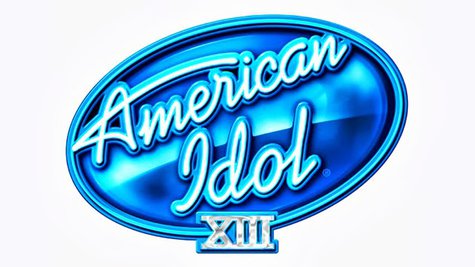 American Idol on Wednesday night adopted a theme of "I'm with the Band" for its top nine. Essentially, the contestants acted as the frontman or frontwoman for the house band, led by musical director Rickey Minor .
For the most part, the top nine leaned on rock hits. Jennifer Lopez , Harry Connick, Jr. , and Keith Urban offered their two cents after each performance.
The show began with footage of the top nine receiving advice from Fall Out Boy 's Patrick Stump and Pete Wentz . Afterward, the contestants took the stage for renditions of the Coldplay hit "Clocks," The Rolling Stones classic "(I Can't Get No) Satisfaction," and Fall Out Boy's "My Songs Know What You Did in the Dark (Light Em Up)." It's probably safe to assume "Clocks" was chosen before Tuesday's announcement that Coldplay frontman Chris Martin and his wife, Gwyneth Paltrow , have separated.
Here's what followed:
Alex Preston put a Jason Mraz -esque spin on the No Doubt hit "Don't Speak." Keith said he wants to see more edge from Alex. Jennifer said the performance sucked the energy out of the song. Harry advised Alex to move around more on stage.
Majesty Rose took on "Shake It Out," by Florence + The Machine . J-Lo said the vocals were a bit off, but otherwise the performance was a "10" because Majesty showed great command of the stage. Harry said she is so close to making a real breakthrough in the competition.
Dexter Roberts performed "Boondocks," by the country group Little Big Town . Harry impressed upon him that he needs to be more original with his performances. Keith agreed to some extent, but added that "Boondocks" is the type of song that he can envision Dexter recording.
Malaya Watson sang a Beatles tune, "The Long and Winding Road." Keith told her it was "beautiful, baby." He said her personality comes through when she hits the right notes. Jennifer said Malaya's vocals call to mind the "sweetness of a young Michael Jackson ."
Sam Woolf covered the Plain White T's single "Hey There Delilah." J-Lo asked him if he had someone in mind when he sang that song. If he did, she said, he needs to convey the message more strongly. Harry agreed, but also noted that the stripped-down version of the song allowed Sam to feel comfortable.
Jessica Meuse went with Fleetwood Mac 's "Rhiannon." Harry detected a small but positive change in Jessica, saying she came across as more focused. Keith said the key for Jessica is becoming more comfortable singing without an instrument.
C.J. Harris performed an obscure song by Idol standards, The SteelDrivers ' "If It Hadn't Been For Love." Keith called it a clever choice that allowed C.J. to tap into his soulful side, though he gave him advice about singing from the heart. Jennifer said the middle section of the performance was shaky. Harry urged him to work on his pitch.
Caleb Johnson rocked out to Led Zeppelin 's "Dazed and Confused." J-Lo was really into it, moving up and down in her seat throughout the performance. She and Keith both gave Caleb a standing ovation when it was over. Jennifer said Caleb showed off some sexiness. Keith remarked that Caleb really brought out a new dimension to the band.
Jena Irene closed the show with the debut single from Evanescence , "Bring Me To Life," which celebrated its 11-year anniversary this week. Harry said Caleb was a hard act to follow, but Jena pulled it off. J-Lo suggested that Jena act a little more crazy. Jennifer inadvertently cursed while Harry teased her, but it was censored.
One contestant will be eliminated on Thursday night's results show, airing on Fox at 9 p.m. Eastern time. Janelle Monáe will be the musical guest.
The results show will only be a half-hour long, serving as a lead-in to the new Christopher Meloni comedy Surviving Jack.
Copyright 2014 ABC News Radio