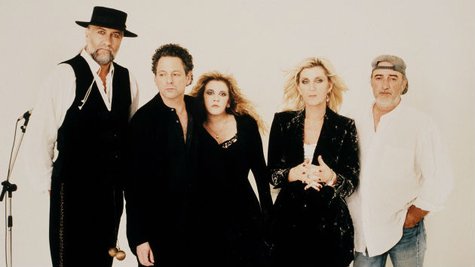 On Thursday morning, Fleetwood Mac announced official plans to mount its first tour in 16 years with longtime singer/keyboardist Christine McVie , who'd retired from the group in 1998. The "On with the Show" trek is scheduled to get under way September 29 in Minneapolis and currently is plotted out through a December 20 show in Tampa, Florida.
The band's fans have even more to be excited about, as Christine reveals in a lengthy new interview with Rolling Stone that Fleetwood Mac already is working on material for a potential new studio album, and is planning to extend the tour into 2015.
"We're playing around in studios now," says McVie with regard to the new music. "We're really running through some demos that I sent [singer/guitarist] Lindsey [ Buckingham ]. My demos are rough, [but] we're just trying to construct some proper tracks from them and the chemistry is magic."
As for the tour, Christine says the band is planning to begin rehearsals in July, and when the announced leg wraps up around Christmas time, the group will pick things up again at the "end of January and complete America and we can do the world." As for how long the trek might run, McVie says, "Who knows?"
Christine says she's thrilled to be back playing music with her old band mates, declaring that she feels like "a pig in a pile of poo."
She adds, "It's just such a joy. It's an affirmation of something so magical, there's just a chemistry between us that's just phenomenal."
McVie reveals that she first began thinking about returning to Fleetwood Mac around two years ago. Several factors had been behind her decision to leave the group, including that she'd gotten tired of touring and the Los Angeles lifestyle, she'd developed a fear of flying and she wanted to move back to England and live in the country. Eventually, however, she says, "I started to think, 'What am I doing? I really miss that camaraderie with those four people. I miss everything about it.'"
She further explains, "I missed the music, to be able to create again. I couldn't imagine doing it with anyone besides Fleetwood Mac. I knew that they were my musical family."
Prior to coming back to the Fleetwood Mac fold, McVie says, she went to a therapist to deal with her flying issues. As part of her therapy, she accompanied drummer Mick Fleetwood on a trip to Maui, Hawaii, in February 2013 to play a show with his blues side project, which was her first public performance since 1998. Her much talked-about reunion appearance with Fleetwood Mac followed this past October, when she joined the band for an encore at London's O2 Arena. Her return to the group's lineup was officially announced in January.
Looking forward to what's ahead for Fleetwood Mac, Christine tells Rolling Stone , "We're all committed to keep on going until one of us says stop it."
Copyright 2014 ABC News Radio