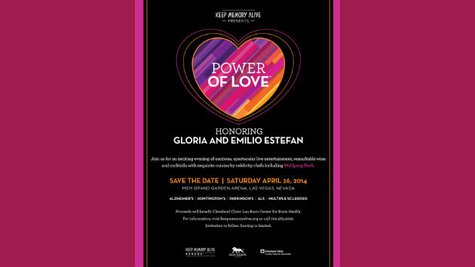 Plenty of famous names are lining up to pay tribute to Gloria Estefan and her husband Emilio at an upcoming charity event in Las Vegas, including Ricky Martin , Carole King and Jordin Sparks .
The 18th annual Power of Love Gala, organized by the charity Keep Memory Alive , will be held April 26 at the MGM Grand Hotel & Casino. Keep Memory Alive raises money to fight degenerative brain diseases, and Gloria and Emilio are being recognized for their advocacy for research into spinal cord injuries, which plays a role in these sorts of diseases.
This is a cause close to Gloria's heart. You may recall that following a serious bus accident in 1990, the singer had to have rods implanted in her spine to stabilize it, and underwent nearly a year of physical therapy before she could walk again. In addition, Gloria's father had a fatal neurological disease. Gloria and Emilio went on to found The Gloria Estefan Foundation, which helps raise money and awareness of causes focusing on children and spinal cord research.
In addition to Ricky Martin, Carole King and Jordin Sparks, Jon Secada , Queen Latifah , Rita Moreno and actor Andy Garcia will be on hand to salute Gloria and Emilio at the gala event. Visit KeepMemoryAlive.org for information on how to attend.
Copyright 2014 ABC News Radio