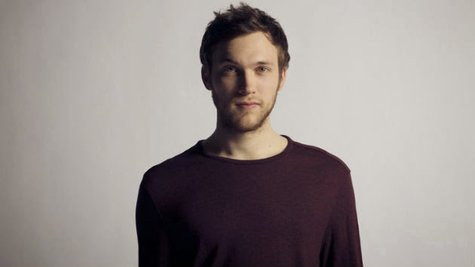 Phillip Phillips fans know that the guy loves music. But it turns out when he's not thinking about writing songs or performing live, the former American Idol champ has one thing on his mind: food.
"Honestly, I love food," Phillip tells ELLE magazine, explaining why he's excited to play the very first Food Network in Concert festival. The September 20 show outside of Chicago, Illinois will feature top musicians as well as cooking demonstrations by some of the Food Network's biggest stars. "I love cooking too and baking and whatnot with my girlfriend. It's just fun," he adds. "Cooking to me, it's kind of therapeutic. It's completely different from music as well."
So, is Phillip any good in the kitchen? "I'm not amazing at it, but I can cook myself a good meal," he says. "And I'm not just saying this, but anytime I'm on the bus or at home, I'm watching Food Network or cooking on TV just cause it's interesting to me. It's pretty amazing how some cooks can just put together stuff off the top of the hat. But yeah, I love cooking; I love eating; I love everything about food."
Phillip says his culinary specialties include burgers, chicken tacos and chicken wraps, but he'd rather eat his mom's cubed steak and gravy, homemade mashed potatoes and butter beans. "She's a master at [comfort food]," he gushes.
Joining Phillip on the bill for the festival will be his pal John Mayer , with whom he toured last winter. "He's a great guy. He's an incredible musician," says Phillip of John. "It's always an honor to share the stage with somebody like that. And he's a great songwriter. Watching his show, he just goes out there and just plays the hell out of the music. And lets the music speak for itself."
After spending the summer on the road with the band O.A.R., Phillip will kick off a brand-new headlining tour this fall. While he's now a seasoned road warrior, the singer says, "I definitely don't get used to it. I'm always scared to death before I go up onstage."
"It's unbelievable to hear the crowd singing out loud and feel the vibe that I'm feeling... you never get used to it," he adds. "And I think it's good because it always feels like the first kiss every time."
Follow @ABCNewsRadio
Copyright 2014 ABC News Radio