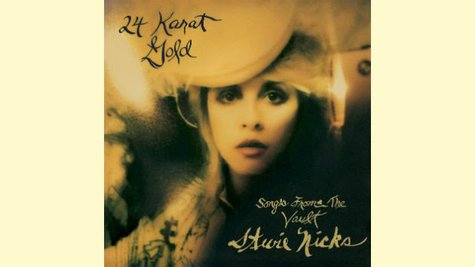 Over the years, many of Stevie Nicks' songs have documented her love life, including, perhaps most famously, her years with Fleetwood Mac guitarist Lindsey Buckingham . They broke up years ago, but on Stevie's new album, she's revisiting their relationship: a good portion of the songs, she says, were inspired by Buckingham.
The album, 24 Karat Gold -- Songs from the Vault, is made up of songs that Stevie wrote years ago, but never recorded, and some date back as far as 1969. She tells Rolling Stone that nobody in Fleetwood Mac has heard the album yet, but she predicts, "Lindsey will love it. Half the songs are about him!"
For example, she tells Rolling Stone that "Lady," a song on the album for which she recently released a lyric video, "captures the mood of me and Lindsey being scared to death when we moved to L.A. in 1971." She adds, "Our producer...gave us this white carved piano – I wrote 'Rhiannon' on it. But I didn't know how to play. 'Lady' was me figuring it out."
Stevie says she only had two months to make 24 Karat Gold because she had to start rehearsing for the Fleetwood Mac reunion tour with Christine McVie , which starts September 30. Her friend Dave Stewart , the former Eurythmics member who produced her last solo album In Your Dreams, advised her to make the record in Nashville because the musicians there work very quickly.
Stevie took his advice, and says she was shocked at just how fast everything came together: they did 17 tracks in three weeks, and there was no drama involved.
"I'm used to bands where we argue over how to do the song," she tells Rolling Stone . "These Nashville guys just say, 'Yes, ma'am.'"
24 Karat Gold -- Songs from the Vault is in stores October 7.
Follow --ABCNewsRadio
Copyright 2014 ABC News Radio