Operation Payback
Mission 19: Storm Cleanup With Helpline Center
Tom & Christy helped clean up branches downed during the ice storm. Thanks to Helpline Center, who arranged the cleanup.
Mission 18: 25th Annual Avera Race Against Breast Cancer
Over 6,800 participants raised $400,000 to enhance cancer care for people right here in Sioux Falls and surrounding communities! You can still donate online.
Mission 17: Spirit of Volunteerism Awards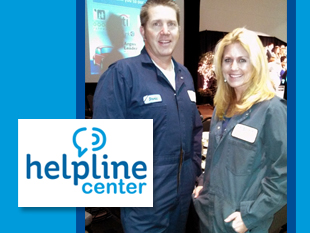 Every year, members of the community are recognized for their outstanding dedication to helping others. Tom & Christy were proud to be chosen as hosts and judges for the 2013 event! The Helpline Center invited everyone to attend and congratulate this year's winners!
Mission 16: 57th Annual Downtown Lions Club Pancake Days
Tom & Christy had a great time helping raise money for local charities by flippin' and serving pancakes at the 57th Annual Downtown Lions Club Pancake Days!
Mission 15: Storm Clean Up
Ice Storm 2013 left behind a huge mess for Sioux Falls and surrounding areas.Tom & Christy jumped in to help! They dropped by listener Leah's home to help her clean up her yard.
Mission 14: The Sioux Falls Area Humane Society
Tom and Christy got a little fresh air with some four legged friends! They headed to The Sioux Falls Area Humane Society to walk dogs.
Mission 13: MDA Hop-A-Thon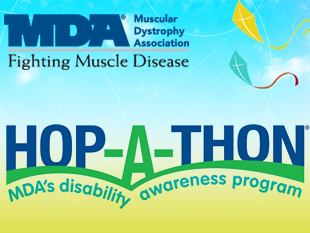 Tom and Christy headed to MDA to help recruit groups to participate in the Hop-a-Thon. The Hop-a-Thon is a disability awareness, acceptance and education program that teaches children three core values of awareness, acceptance and assistance.
Mission 12: Home Builders Association of the Sioux Empire
Tom & Christy volunteered as "Celebrity Judges" for the Home Builders Association of Sioux Empire Chili Cook Off and Ugly Sweater event!
Mission 11: NKF Feast of the Great Chefs
Christy helped host one of the National Kidney Foundation's biggest fundraisers of the year! The event featured beers and wines, silent and live auctions and food from over 12 of the area's top chefs! Funds raised help provide for life-saving National Kidney Foundation services and programs.
Mission 10: Ransom Church
Tom & Christy helped sort clothing donations for The Closet with Ransom Church in Sioux Falls. The Closet is a program set up to help others by opening the church's doors four times a year to allow community members to shop for clothing at no cost.
Mission 9: Girl Scout Cookie Cupboard
Tom & Christy helped the local troops distribute baked goodies! The girls put them to work at the 'cookie cupboard'. Cookie sales are by far the most popular fundraisers every year for the Girl Scouts.
Mission 8: Sioux Falls Roller Dollz Bounce House Fundraiser
Everyone had a blast while helping others at the Sioux Falls Roller Dollz Bounce House Fundraiser! Christy Taylor (Christy NailHer #3) was at the event helping with the bake sale and inflatable games!
Mission 7: The 2nd Annual Brewhaha with Sioux Falls Literacy Council
The perfect way to help promote literacy in Sioux Falls! The 2nd Annual Brewhaha with Sioux Falls Literacy Council.
Tom & Christy were at the event helping serve up the beer and making sure everyone had a great time!
Mission 6: Valentine's Blood Drive
Tom & Christy teamed up with The Community Blood Bank for the 2nd Annual Valentine's Blood Drive. The mission of the Community Blood Bank is to ensure a safe, reliable supply of blood in Sioux Falls and the communities we serve in eastern South Dakota, southern Minnesota and northwest Iowa. It is the ONLY blood bank in the region and needs 550 units of blood every week to satisfy the demand!
Mission 5: National Pancake Day with IHOP & Children's Miracle Network
Since beginning its National Pancake Day celebration in 2006, IHOP has raised more than $10 million to support charities and local communities! IHOP offered free pancakes all day, while collecting donations for CMN. The Sioux Falls Storm players even got in on the action in support of the cause!
Mission 4: The Helpline Center
We do a LOT of work through the Helpline Center in Sioux Falls. It's such a tremendous resource for the community. Their mission is "making lives better by giving support, offering hope and creating connections, all day, every day."
They also help connect volunteers with groups who need help! They just got a great new program to help with that process, and Tom & Christy got to help test it out!
Mission 3: JDRF Walk to Cure Diabetes
JDRF is committed to finding a cure for Diabetes. The annual walk was held at Sanford Research Center for the very first time! Thousands of people attended to help find a cure. Learn how to get involved with JDRF.
Mission 2: Lunch Is Served, Inc.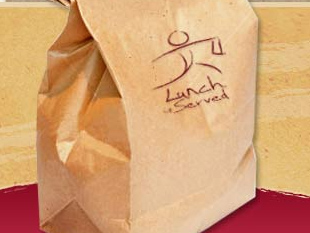 Lunch Is Served, Inc is a nonprofit organization with the unique mission of delivering simple sack lunches for working men and women who are attempting to break the chains of poverty and hunger. Learn more »
Mission 1: MDA Shamrock Boxes
The MDA Muscle Walk® is a series of local walk events across the country held to pay tribute to and raise funds for children and adults served by the Muscular Dystrophy Association. The walks are family-oriented gatherings and light exercise for everyone — children, adults, grandparents, students, corporate teams and more. Learn more about MDA, find events, and find out how to get involved on the official Sioux Falls MDA page.